YOUR PARTNER FOR TAILOR-MADE INNOVATIONS

BMZ GmbH develops and produces high-tech battery systems for automotive, e-mobility and storage, medical and industrial applications as well a power and garden tools which are built into a wide variety of products from well-known brands worldwide. The product range includes electric vehicles, e-bikes, energy storage systems, portable medical equipment, electric pruning shears, drills and cordless screwdrivers.
BMZ's technicians and engineers are your competent partners working closely with you. BMZ offers you ready-made concepts or develops a new solution with you. BMZ implements your project from an idea to the successful product.
BMZ makes custom battery packs: standard cells and customised products from single cell batteries to intelligent battery packs. The batteries can be built into customised cases or cases developed by BMZ. BMZ provides cells with the customer's label or consumer products across all technologies.
BMZ continuously realises optimisation potential through innovations
Battery packs by BMZ are subject to a continuous optimisation process. To this end, BMZ carries out technical analyses of already developed battery packs in order to implement new or improved technologies with higher capacity and performance.
FUTURE PROSPECTS: EXPANSION OF PRODUCTION CAPACITY
In order to meet the rapidly growing demand for intelligent lithium-ion storage solutions, BMZ GmbH will continue to push the expansion of the capacity for development and production at the company's headquarters in Karlstein am Main. Two more large production halls of 4,500 m2, each with two highly flexible production lines, and a new administration building of 1400 m2 are set to follow suit before the end of 2020, depending on the development of demand for lithium-ion batteries.
The production and administrative areas at the Polish branch in Gliwice are also being expanded by constructing new buildings.
CERTIFICATION: QUALITY IN ACCORDANCE WITH THE ISO STANDARD
Process-oriented quality management and product quality have been taking centre stage at BMZ since the company was established. The requirements of DIN EN ISO 9001:2015 are part and parcel of our management system, which is the same for all of BMZ's facilities around the world. It is the basis for outstanding products and business excellence. Step by step, we are also integrating into our system the requirements of specific industries, such as medical ISO 13485, telecommunications TL 9000 and automotive ISO TS 16949. ISO TS 16949 certification is scheduled for 2017.
Its scope covers the configuration, development and production of customised battery and rechargeable battery systems.
BMZ E.VOLUTION CENTER
THE BMZ E.VOLUTION CENTER DEVELOPS BATTERIES OF THE FUTURE
The BMZ E.Volution Center develops around 200 new battery systems for automotive, e-bikes, garden tools, medical devices and other applications under the direction of Chief Technical Officer (CTO) Dirk Oestreich.
More than 150 employees in the BMZ E.Volution Center develop all the components of a modern, high-performance lithium-ion battery, from concept to series production. In addition to battery cell experts, the E.Volution Center employs designers, hardware and software developers, test engineers and prototype engineers, as well as welding specialists. Thermal management, charging technology and many other innovative topics. Product managers and project managers ensure that the developments are completed in time. From the BMZ E.Volution Center, customers receive total solutions for a wide variety of applications.
COMPANY HISTORY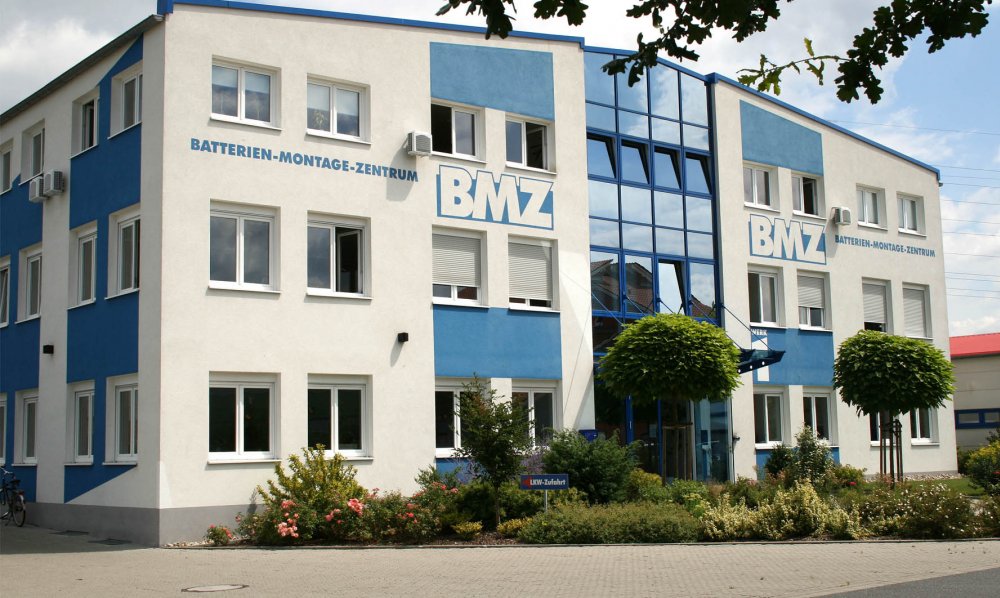 From start-up company to European market leader
It all started with a revolutionary idea. When company founder Sven Bauer assembled the first battery packs from battery cells in 1994, he had a precise vision: He wanted to create a battery that did not look like a battery and that blended in with the applications as seamlessly as possible The small start-up company developed into an innovator of the industry.
Today, BMZ blazes a trail as a system provider and specialist for intelligent solutions, a leading European battery expert and global player.
MADE IN GERMANY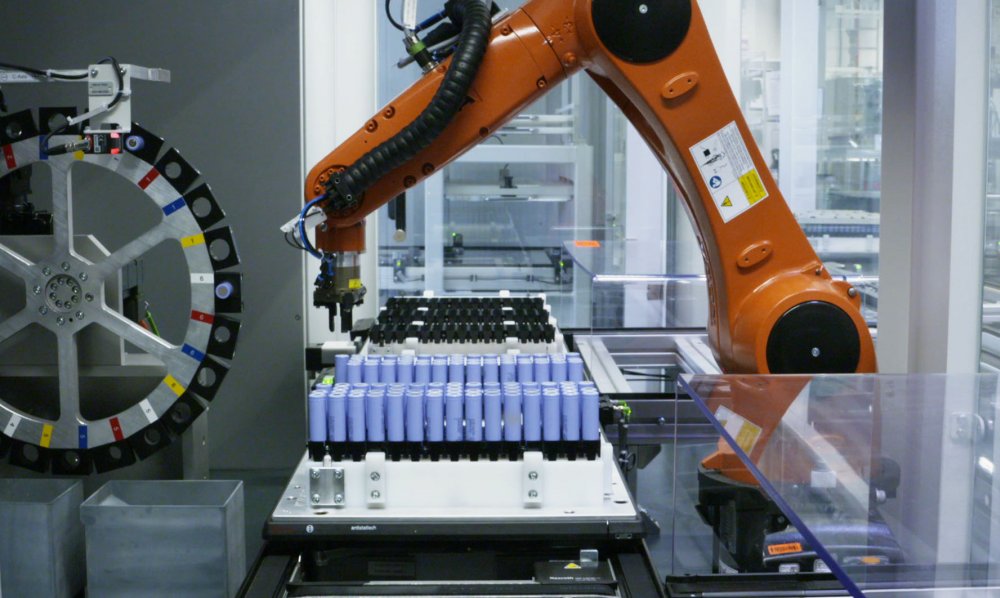 Established in 1994, BMZ GmbH is headquartered in Karlstein am Main in Bavaria. In May 2016, the first section of the new BMZ production units was put into operation. In the two large production units of 4,800 m² each, up to 200 million lithium ion batteries of different types and sizes with a total storage capacity of approximately 15 GWh can be developed, built and tested every year, depending on need and demand.
With the massive expansion of production capacities at BMZ's headquarters in Karlstein am Main, the company stresses the immense importance of this technology sector, in particular for Germany as an industrial centre. With the modular concept of the expansion, BMZ can respond more quickly and flexibly to future changes in the European market.
ETHICAL PRINCIPLES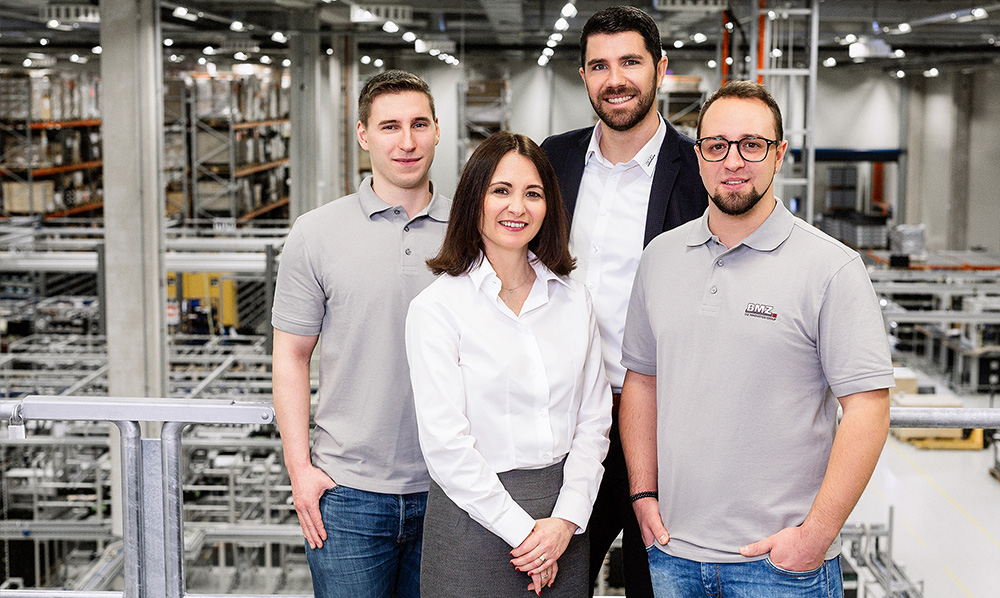 Ethical requirements for business operations and the workplace are becoming increasingly complex. Therefore, BMZ has implemented a code of conduct in 2013, which regulates our interactions in key areas such as human rights, employee relations, environmental protection, relations with civil society and anti-corruption policies within the company.
The code of conduct defines minimum standards for the conduct of all BMZ employees vis-à-vis colleagues, customers and suppliers, worldwide. BMZ also requires suppliers, consultants and other business partners to comply with the code.